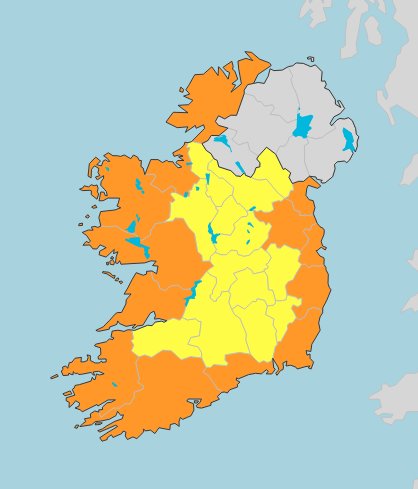 In total, 13 counties have an orange weather warning in place - the second highest level of severity - they include: Donegal, Galway, Mayo, Sligo and Clare, Dublin, Louth, Wexford, Wicklow, Meath and Waterford.
Today's unseasonably warm weather will be replaced by the strong winds and heavy rain felt at the beginning of the week as we head into Friday and Saturday.
The remainder of the country is covered by a Status Yellow Wind Warning and will remain in place until 9am Friday.
"The rain is expected to be accompanied by strong winds, which when combined with high tides may lead to some coastal impacts due to large waves".
Also issued by Met Eireann at 10:00am this morning, this warning will be in effect for the longer time of 10:00pm tomorrow night through to 12:00pm on Friday.
More news: Report carries dire warning on global warming
The weather warnings are coming thick and fast and Met Éireann has even issued a scary "risk to property and life" statement.
Winds will be strongest overnight and early on Friday in these areas, gusting between 90kph and 110kph.
Gary White, NRW's Duty Tactical Manager, said: "The current forecasted rain could cause flooding this week, especially in south and west Wales, and we are urging people to prepare themselves".
Stay away from exposed coastal areas for the period of the ORANGE warning.
The AA is advising motorists to reduce speed accordingly to improve their ability to maintain control of their vehicle when driving through areas affected by Storm Callum.
More news: Taylor Swift-Kanye West feud enters political arena
"There will be storm force or gale force gusts, which can be severe or damaging". More localised surface water and river flooding is also possible for high ground parts of the south-west of England on Friday and Saturday.
Storm Callum is set to hit Irish shores this week.
Beware of objects being blown out onto the road.
There will be occasionally strong southeasterly winds, which will then ease. There is a chance of gusts of 70 to 80 miles per hour in the Western Isles during Friday afternoon and evening.
Heavy and persistent rain is due to fall from 6am until midnight on Friday in the north west of England, south west of Scotland and Lothian Borders, Wales and Yorkshire and Humber.
More news: Chill in the air as Pompeo meets Chinese counterparts in Beijing