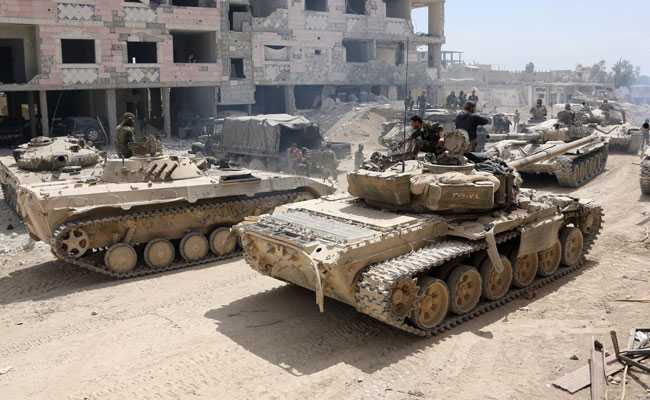 Russian and Iranian news services reported that two Israeli F-15 war planes carried out the strike, which a conflict monitor said killed 14 people.
Israel's military forces have been put on high alert after Iran threatened to retaliate over the bombing early Monday of an air base in central Syria.
The statement came as Damascus and Moscow blamed Israel for a missile strike early on Monday on Syria's Tayfur (T-4) airbase.
In Damascus, Ali Akbar Velayati, the diplomatic advisor to Iran's supreme leader, Ayatollah Ali Khamenei, issued an open threat to Israel on Tuesday after the Iranian government said it had lost seven personnel in the strike.
More news: IPL 2018: Intent from Shikhar Dhawan was superb, says Kane Williamson
Syrian state TV initially said the United States was suspected of carrying out the attack on T-4. However, Prime Minister Binyamin Netanyahu made a cryptic reference to the incident on Monday when he said, "We have one clear and simple rule and we seek to express it constantly: If someone tries to attack you - rise up and attack him". After the airstrikes were reported, however, Pentagon spokesman Christopher Sherwood said in a statement: "At this time, the Department of Defense is not conducting air strikes in Syria".
"Our military specialists have visited this place ... and they did not find any trace of chlorine or any other chemical substance used against civilians", Mr Lavrov said.
Reports after the strike indicated that at least 14 were killed, with Iranian officials announcing that seven members of its military died in the attack.
The US government denies involvement. Israel has also been providing medical treatment to the militants wounded in the Arab country.
More news: United States considers sale of advanced weapons to Qatar
The Iranian Foreign Ministry has denounced the attack, holding Israel responsible. The original number of Iranian fatalities in the attack was four.
Rami Abdurrahman, the Observatory's chief, said the assault targeted a mobile air defence unit and some buildings inside the air base.
Velayati, in turn, reaffirmed that the Islamic Republic of Iran will continue to support Syria and its people in their struggle against terrorism, and will further strengthen their strategic relations.
"This is an excuse for military action against Syrians and will definitely add to the complexity of the situation in this country and region".
More news: Apple Goes Completely Green; Now Powered With 100 Percent Clean Energy