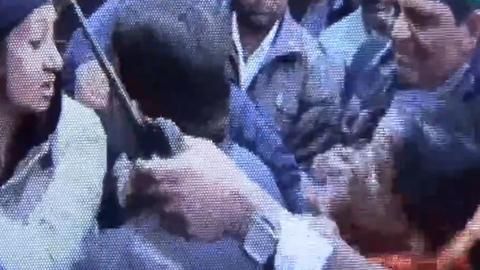 The Himachal Pradesh Congress MLA Asha Kumari alleged had to face severe reverse on Friday when she slapped a woman constable on-duty.
On the basis of a complaint by constable Rajvanti, the case has been registered in Sadar Police station of Shimla under section 353 and 332 of Indian Penal Code (IPC).
"I was pushed, manhandled, threatened with dire consequences", she added.
More news: Ten dead in church attack near Cairo, attacker killed
Soon after this happened, Asha apologized accused the constable of abusing and pushing her. "I want a proper investigation in this matter as per law".
The incident occurred as Kumari was trying to make her way to the meeting convened by Rahul Gandhi to review the results of the recently concluded Himachal Pradesh assembly polls in which the Congress was routed out of power, securing just 22 of the state's 68 Assembly seats.
A bystander recorded the video of the incident in which Kumari can be seen slapping the lady constable and then being slapped back. Not ready to hold back, the constable slapped her back and this was caught on camera by bystanders.
More news: Snapchat memories 2017: Here's how to see your "year in review" story
The complaint mentioned that lady constable did not allow her to enter in the Congress Office where she was invited to attend the meeting having entry pass. Kumari had an altercation with a woman constable over the entry to the venue. After considerable backlash, she also took to Twitter and clarified the situation calling it an act of self-defence.
An All India Congress Committee's (AICC) secretary, Kumari is a member of Himachal Pradesh Legislative Assembly from Dalhousie. She is an MLA from Dalhousie. "The lady constable misbehaved with me, abused me and nearly beat me up, but I should not have lost my calm".
More news: Showtime's Espinoza: Mayweather Won't Fight in MMA or Box Again