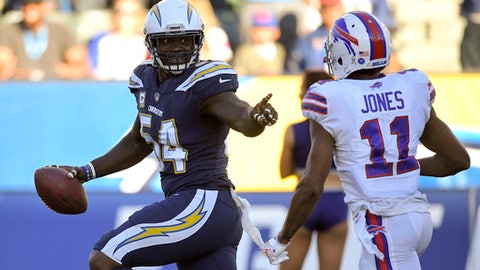 The Bills, despite being above.500 and in a playoff position, made the bold decision last week to bench starting quarterback Tyrod Taylor in place of 2017 fifth-round pick Nathan Peterman, a move sources said team management had been considering for weeks and one born of several factors. Sean McDermott mercifully yanked Peterman and went back to Taylor at halftime but not before he gave us some fascinating stats...
NOTES: Bills WR Kelvin Benjamin (knee) was injured on his lone reception of the game in the first quarter and didn't return. Peterman has since thrown two more interceptions to bring his tally up to four picks with 12 minutes to go in the first half.
More news: Middle-earth: Shadow of War offering free DLC
But Peterman threw his third interception to Tre Boston while getting planted on his back by Bosa, and Allen then caught his first touchdown pass since the Chargers' opener on a lovely back-shoulder throw by Rivers.
Rivers completed 21 of 37 passes for 235 yards with two touchdowns in the Week 10 loss to the Jaguars but threw an interception in overtime that allowed the Jaguars to set up the game-winning field goal.
More news: AAA predicts 51 million travelers this Thanksgiving, highest volume since 2005
Taylor, the starter since 2015, led the Bills to a field goal in his first series, but that only cut the margin to 40-10. Bosa also forced a fumble while sacking Taylor on fourth down in the third quarter, and Melvin Ingram returned it 39 yards for a touchdown.
Nick Novak's second field goal, a 27-yarder, gave the Chargers a 27-7 cushion midway through the second quarter. Meanwhile the Bills are tied for third fewest in the league, with just six total points on opening possessions.
More news: Apple delays HomePod speaker, leaving high-end smart speaker market to Sonos, Google
Gordon entered week 11 against the Bills with 2,191 career rushing yards.